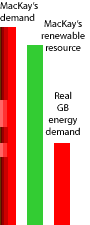 In "Sustainable Energy Without the Hot Air", Professor MacKay compares an energy demand of 195 kWh/d with his calculated British renewable resource of 180 kWh/d, and comes to the conclusion that Britain cannot power itself from renewables. But in reality, British energy demand is 155 Mtoe/y. That's the confirmed 2008 number, from the official Digest of UK Energy Statistics. (pdf, see Table 1.1, Final Consumption minus Non-energy use). That's less than half the demand figure used in the book, when looking at whether his calculated renewable resource is enough. When we compare the renewable resource with the current demand figure, we see that the resource is more than double current energy demand: and that's before any energy efficiency measures. And that makes a huge difference: by using the real figure for demand, we see that the UK renewable resource is much higher than current energy demand, so Britain could comfortably power itself from its own renewables.
Here at EnergyNumbers, we emphatically and enthusiastically support Professor MacKay's aspiration for an informed public discussion about energy: and in that co-operative spirit, let's take a look at the facts and the numbers.

Perhaps you're wondering why the official demand figure doesn't look like the one in the book. Indeed, there are several figures for demand in the book, and that's not one of them. Let's look at the differences.

Here we have two bars – the one on the right is our current energy demand of 82 kWh/d; to the left of it is Professor MacKay's 195 kWh/d figure for energy demand. That 195 kWh/d is presented as the typical demand of an affluent adult: one, it turns out, with an extreme energy consumption. Such an exaggerated demand has mislead the book's readers into thinking that Britain's huge renewable resource cannot meet all our energy needs. It's very misleading to compare an extreme consumption with an average supply. I suppose we could compare the exceptionally high demand of the richest in society, with the very best supply, if we we suspect that think that they might cut themselves off from the National Grid to set up a "grid for the rich" (with gold-plated cables?). That's silly. Let's not do that. Let's compare average demand with average supply, or (amounting to the same thing) total demand and total supply. That 195 kWh/d also includes the energy embodied in imports: energy which is generated and consumed abroad, to make the things we import – for example, the energy involved in mining copper, or making fridges. We don't supply the energy for that assembly, any more than we provide the copper (not many copper mines in Britain). We may wish to avoid being net importers of electricity or fuel, for strategic security, but that's completely different to embodied energy. We don't balance all our imports of embodied energy with matching exports, any more than we do balance imports and exports of embodied copper, embodied water, or embedded anything else.
Let's look at how our real energy demand of 82 kWh/d compares to the demand figure of 195 kWh/d that Professor MacKay uses to assess whether we have enough renewable resources.
Over-estimate:

73 kWh/d

Cooling towers and other conversion losses:

27 kWh/d

Other supply-side losses:

16 kWh/d

Efficiency savings when making the five plans that add up:

14 kWh/d

82 kWh/d

GB Energy Demand
Energy demand used when making the five plans that add up:

68 kWh/d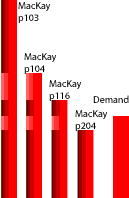 195 kWh/d is the demand figure Professor MacKay uses when looking at whether we have sufficient renewable resources (p103). But on the very next page, when looking at current energy consumption, he gives a figure of 125 kWh/d (p104). He then takes away some of the losses within the energy industry itself, the conversion losses, which includes the huge amount of heat we waste in cooling towers to give 98 kWh/d (p116). And finally, when building his own scenarios, he uses a figure of 68 kWh/d (p204). Those figures, together with the 82 kWh/d of actual current demand, are shown to the left.
125 kWh/d is indeed the amount of power contained in Britain's total fuel consumption, so that is at least a real-world figure, albeit one that's still larger than our real energy demand. It's larger, because in addition to our energy demand, it contains all the power we waste across the energy industry before it reaches the customer.
The 98 kWh/d number is more representative of current demand. It includes demand, and some waste. After all, some energy will always get used by the power industry itself, however it's made, and although thermal plant (coal, gas, nuclear, biomass, geothermal) is very inefficient in throwing away much of the energy as waste heat, any energy delivery system will have losses: for example, however we generate electricity, around 7% of it is wasted in the transmission and distribution system. But in that 98 kWh/d there's a lot of other waste that wouldn't need to be generated in a decarbonised Britain, such as energy use by oil refineries. So both of those figures reflect the inefficiencies built into the way we currently generate our energy, and neither are representative of demand within our future low-carbon society.
Our current energy demand of 82 kWh/d would be reduced by about 9 kWh/d simply by electrifying cars. That and other modest energy efficiency measures give us us Professor MacKay's target demand of 68 kWh/d. There are lots of opportunity for other energy efficiencies in there, but also the possibility that rising incomes will cause energy demand to rise.
In conclusion, to assess the potential of Britain's renewables, as well as to set a figure for building a plan that adds up, anywhere in the range 46 kWh/d to 80 kWh/d would be reasonable – it's a question of how much money is invested in energy generation, relative to the amount invested in energy efficiency. In contrast, the artificially inflated demand figure of 195 kWh/d is nowhere near our real energy demand, and has mislead people into believing the myth that Britain's energy demand exceeds its renewable resource, whereas the reverse is true: our renewable resource is much greater than our energy demand.